Thematic Network
What we do
Freshfel Europe's 2018 Thematic Network
European Commission Thematic Network
In 2018 Freshfel Europe coordinated a European Commission Thematic Network on 'Stimulating fresh fruit and vegetable consumption for healthier European consumers' as part of the annual work of the European Commission EU Health Policy Platform.
The overall objective of the Thematic Network was to act as a platform for sharing information, knowledge and best practices targeted at increasing fresh fruit and vegetable consumption among those groups whose consumption of fruit and vegetables is low throughout Europe, such as children, young adults and those with a lower socioeconomic background. Freshfel Europe's Thematic Network aims were to:
Develop a Joint Statement with an accompanying visual representation;
Act as a forum for dialogue between organisations to discuss the realization of these best practices, and
Act as a platform from which to develop collaboration and synergies between organisations beyond 2018.
All information about the Thematic Network is available on the Thematic Network's dedicated area on the EU Health Policy Platform.
Thematic Network Joint Statement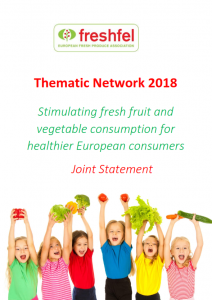 In collaboration with stakeholders participating in the Thematic Network, Freshfel Europe developed a Joint Statement outlining the way forward for increasing fresh fruit and vegetable consumption in Europe.
The Joint Statement comprises of two parts, a framing paper contextualising current fresh fruit and vegetable consumption levels in Europe and a recommendations paper outlining 44 points of action with accompanying best practices to stimulate fresh fruit and vegetable consumption. All recommendations are aimed at both public and private stakeholders, including governmental institutions and actors within the agri-food and health sectors across Europe.
Participating stakeholders contributing to the Joint Statement including the following organisations: Appic Santé, Aprifel, BEUC, Bord Bia, Copa Cogeca, ECDA, EFAD, EFCAM, EHN, EPHA, Eurocommerce, Euro Coop, EuroHealthNet and FoodDrinkEurope.
The Thematic Network Joint Statement and infographic are available for download here and here.
Endorse the Joint Statement
The Joint Statement is now open for endorsement by stakeholders. Stakeholders have until the 25 January 2019 to formally endorse the Joint Statement, thereby endorsing the provisions and recommendations included in the Joint Statement. All endorsing stakeholders' logos will appear at the back of the Joint Statement.
To endorse the Joint Statement please send your official logo to Nicola Pisano (nicola@frehsfel.org) accompanied by a letter confirming endorsement of the Joint Statement (email letter is sufficient) by 25 January 2019 COB.