Freshfel Headlines – Number 4, 2019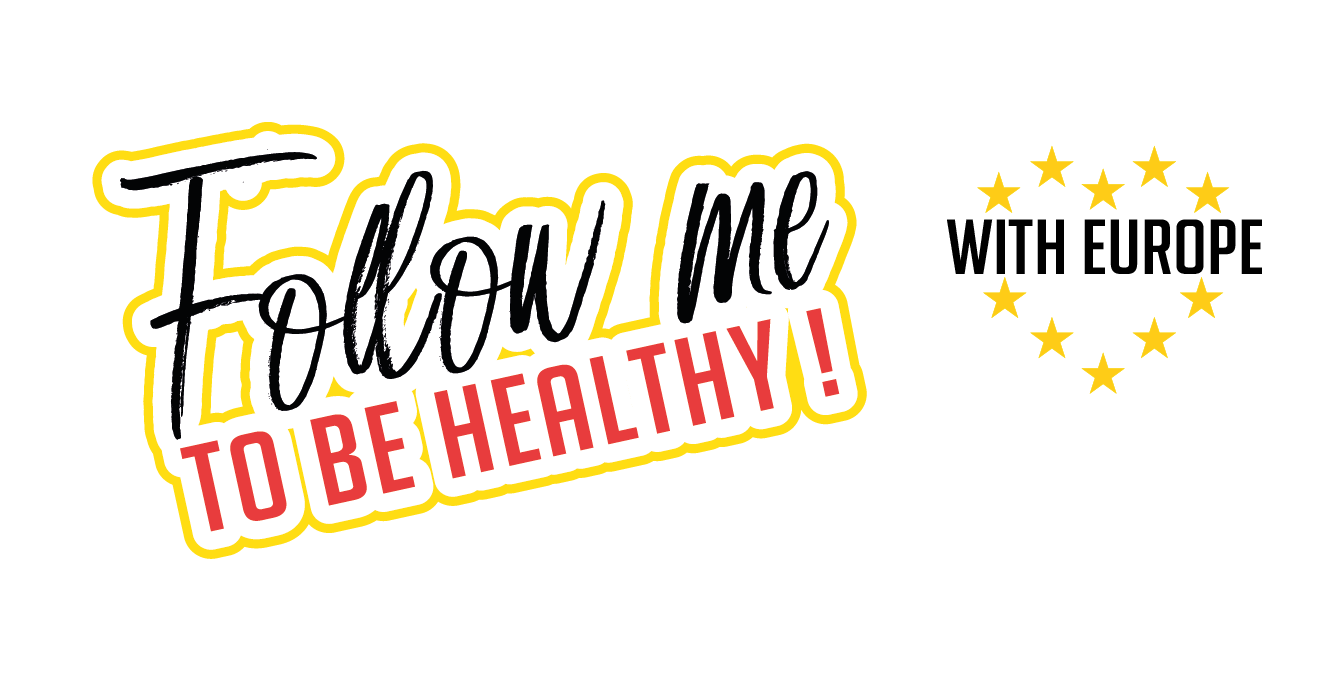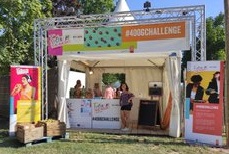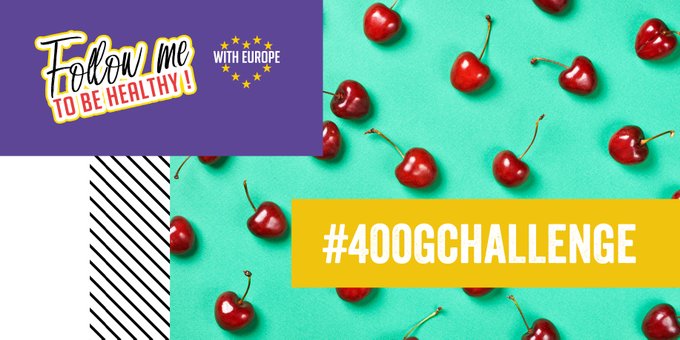 Freshfel Europe launches #400gChallenge with the 'Follow me to be healthy with Europe' campaign
On 4 July 2019 Freshfel Europe and Aprifel launched their joint EU-funded digital-first campaign 'Follow me to be Healthy with Europe'. The campaign aims to encourage young Europeans to increase their consumption of fruit and vegetables to a minimum of 400g a day (WHO recommendation) via monthly challenges posed by online influencers. The campaign will run until end 2021 online under the hashtag #400gChallenge and was launched at the Eurockéennes music festival in Belfort, France.
The objective of the campaign is to increase awareness of the role that a healthy diet rich in fruit and vegetables plays in leading a healthy lifestyle to ultimately transform millennials' dietary habits. The campaign will be present on social media (YouTube, Instagram, Twitter and Facebook) supported by a wide range of European e-influencers. The campaign's slogan is in fact a double entendre. 'Follow me to be healthy' invites the audience to follow the campaign's social media channels and to take part in the challenges put forward by the participating influencers. Via the call for action 'Are you up to the #400gchallenge' the campaign invites the target audience to increase their daily intake of fruit and vegetables to at least 400g per day and change their daily habits.
Monthly videos featuring a young couple, a young professional and a student will provide tips and tricks on how to easily integrate fruit and vegetables into their daily diets and inform millennials on the health benefits of these products. These videos will also coincide with infographics, tips and testimonials, acting as easy-to-use reminders of the tips provided in the videos. The campaign will also be present at two events per year in France in addition to the EU Study Fair in Brussels. For this year's second event, the campaign will be present at the Paris Manga – Sci-Fi Show. For more information about the campaign please contact helene@freshfel.org.
Want to know more? Follow us on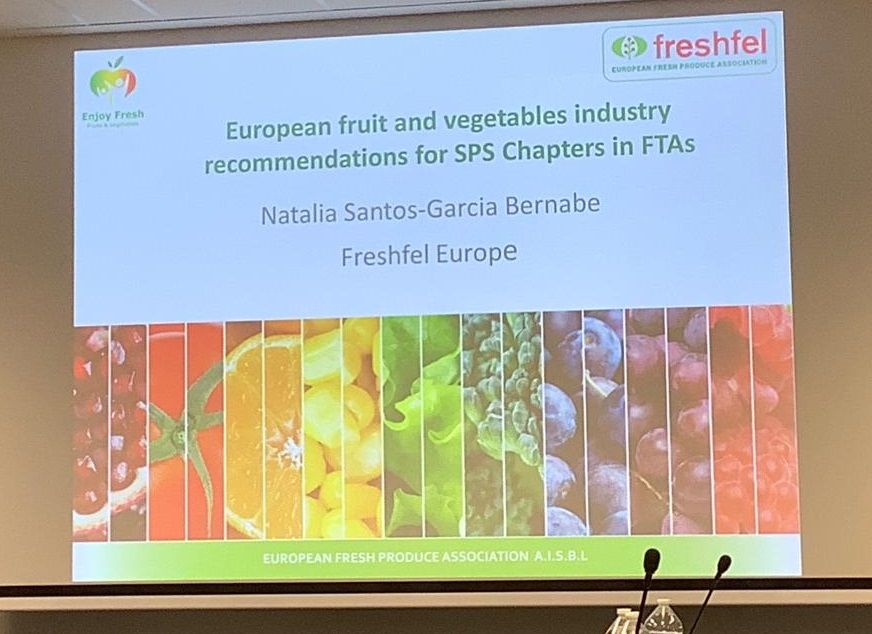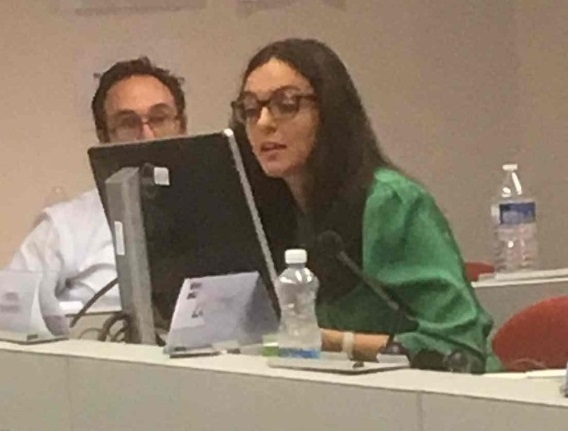 Freshfel Europe offers solutions to urgently tackle SPS barriers to access third country markets
Last week Freshfel Europe Policy Advisor Natalia Santos-Garcia Bernabe delivered a presentation entitled 'European fruit and vegetables industry recommendations for SPS Chapters in FTAs' at the European Commission's Market Access Working Group on SPS matters in Brussels.  Ms. Santos-Garcia Bernabe outlined the main challenges the fruit and vegetables sector is facing to access third country markets, especially in relation to the negotiations of bilateral protocols and the lack of international standards. She also elaborated on how FTAs, in particular via SPS Chapters, could help improve market access for fresh produce in key markets, in particular by including binding provisions to accelerate negotiations, through the full enforcement of agreed FTA provisions and the strengthening of information exchange channels on market access among EU Member States. The suggestions were well received by the European Commission, who expressed their willingness to continue their close engagement with Freshfel Europe on this matter.
Please find Freshfel Europe's press release here.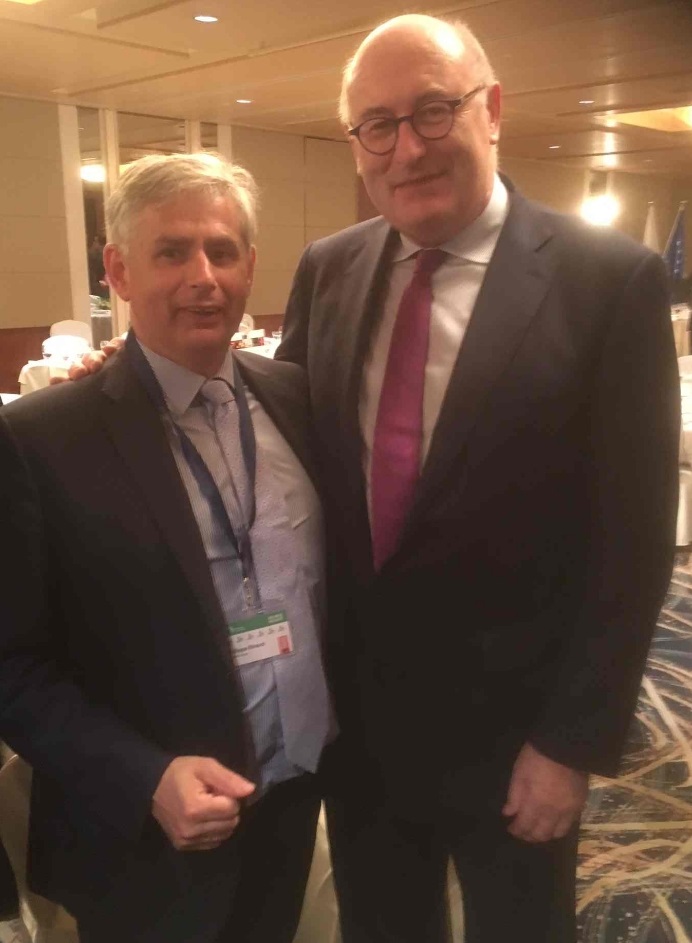 Freshfel Europe leads EU fresh fruit & vegetable representative in European Commission High Level market access initiatives in Japan & Mexico
In the last few weeks, Freshfel Europe General Delegate Philippe Binard has actively participated in various DG Agri initiatives supporting market access for European exports of agricultural products. Mr Binard participated in the high level mission with Commissioner Hogan in Japan in May. The main objective of Freshfel Europe on behalf of European producers and exporters was to raise the challenge of increasing EU fresh produce exports to Japan. Many protocols have been pending for several years and Freshfel Europe is actively voicing the industry's concerns on the lack of progress in regard to access to the Japanese market. Within the new EU- Japan Free Trade Agreement, progress needs to be achieved as a priority, especially regarding Kiwifruit from Italy, pears from Belgium and improving existing protocols for citrus (Spain, Italy) and apples (France).
In July Mr Binard travelled to Mexico with the European Commission. Here, Freshfel Europe urged to reverse the current effective ban of EU produce on the Mexican market due to the lack of protocols or of workable protocols. Under the terms of the new Free Trade Agreement a window of opportunity could occur for the different pending protocols or for existing ones for removing preclearance or excessive terms. A strict timeline for the negotiation process should also be introduced. The lack of reciprocity in market access conditions is appalling in the case of EU-Mexico fruit and vegetable exchange. Mexico has been building its exports to the EU in the last 20 years from 15,000 T to more than 200,000 T while EU exports remain unauthorized due to Mexico's restrictive policy. Time has come for a change and for Mexican consumers to diversify their assortment of fresh produce. If we analyse 700,000 T of imports of fruit and vegetables into Mexico products from the USA account for 90% while 7% and 3% are from Chile and Peru respectively.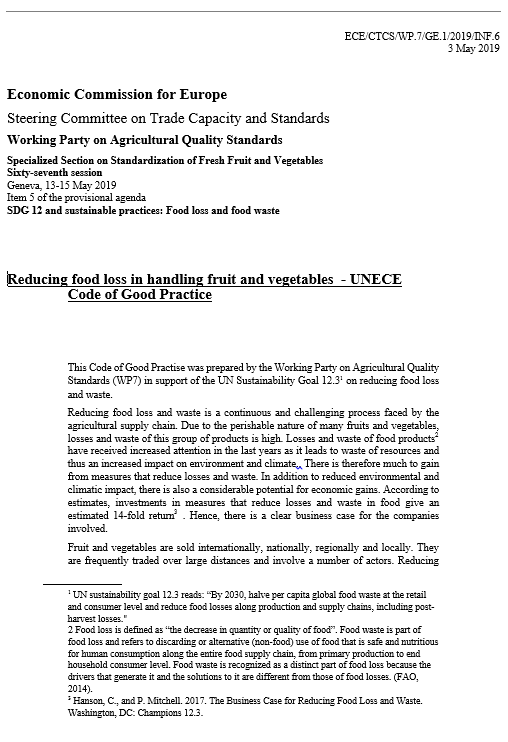 Freshfel Europe contributes to formulation of UNECE food waste Code of Good Practice 
Over the last few months Freshfel Europe has contributed to the formulation of the United Nations Economic Commission for Europe's (UNECE) new 'Code of Good Practice for reducing losses in fruit and vegetable trade'. The Code of Good Practice sets out activities and measures along the fruit and vegetable supply chain from harvest to retail with the aim of reducing losses and waste. The Code is intended to complement the trade standards for agricultural produce elaborated by the UNECE to facilitate trade.  The document is currently being prepared and finalised by the UNECE working group on food loss led by the delegation of Sweden. During the drafting process Freshfel Europe, led by Policy Advisor Nicola Pisano, in collaboration with its members provided recommendations on details to include in the Code to ensure that it covers as many elements as possible to reduce food loss and waste in the fruit and vegetable sector. Many companies within the sector already work to reduce food loss and waste and the Code will provide guidelines on how to strengthen these efforts.  The May version of the Code is available here.
Recommendations put forward to European Commission on simple & multi programmes
During the last EU Civil Dialogue Group (CDG) on Quality and Promotion, Freshfel Europe's representative Simona Rubbi (CSO Italy), who is currently the vice chair of the CDG, shared Freshfel Europe's views on the differences in management of simple and multi promotion programmes. This first review was based on detailed expertise from CSO Italy, Interfel France with additional input from across Europe from other Freshfel Europe members.
The presentation covered a wide range of issues with a view to facilitate the administrative management of the programmes and avoid discrepancies among rules and practices among Member States. The technical and operational comparative information provided by Freshfel Europe was widely appreciated by the Commission services and the representatives attending the CDG.
Freshfel Europe welcomes CIQA delegation to Brussels
Over the past few years Freshfel Europe has continued to strengthen the European fruit and vegetable industry's relationship with China by organising an annual workshop with the China entry-exit inspection and quarantine association CIQA in the margins of the China Fruit and Vegetable Fair. The workshops have been dedicated to exchange on market access, SPS and food safety matters. In preparation for this year's workshop, Freshfel Europe welcomed Mr. Duan Xiaohong and a delegation of the CIQA leadership in Brussels on the 22 July 2019. The meeting concluded the continued need and intensification of exchange on matters such as e-commerce, cold chain logistics, the usage of blockchain and consumption trends. The CIQA delegates emphasized that fruit and vegetable imports to China are continuously growing and with that the need for safe and good quality fresh produce from the EU. In 2018 the EU exported roughly 50,000 T of fruit and vegetables to China and imported 185,000 T from China.

Freshfel Europe hosts delegation from the Royal Kingdom of Bhutan 
As part of a growing exchange and cooperation, Freshfel Europe organised a three-day study tour for a delegation from the Ministry of Economics of the Royal Kingdom of Bhutan, in charge of agricultural export promotion. The study visit took place from the 10-13 June 2019. The tour was part of a European External Action Service funded project on trade support to Bhutan, which focuses on improving horticultural products exports. The project's secondary focus is to improve public-private dialogue. The visit, organised by Freshfel Europe Director of Trade Policy Nelli Hajdu, contained visits with DG Santé, DG Agri, the European Investment Bank and the Joint Secretariat for the Transparency Register. Topics discussed during the visit included import conditions for fruit and vegetables into the European Union with regard to food safety, quality and plant health as well as the EU organic regulatory environment with Bhutan's goal to switch partly to organic agricultural production in mind.

Freshfel Europe ready to participate in new European Commission Market Observatory
The European Commission is reshaping and consolidating its product expert groups into a market observatory structure for increasing transparency in the fruit and vegetables market. Freshfel Europe is pleased to have been appointed as one of the organizations to be part of this market observatory. Freshfel Europe as an organization and its representatives for the various products types look forward to collaborating with the European Commission through this new consultation format.