Freshfel Europe Headlines – Edition 2, 2022
Freshfel Europe's Headlines publication provides an overview of the Association's most recent activities.
For more information about Freshfel Europe's activities please contact the Freshfel Europe Secretariat.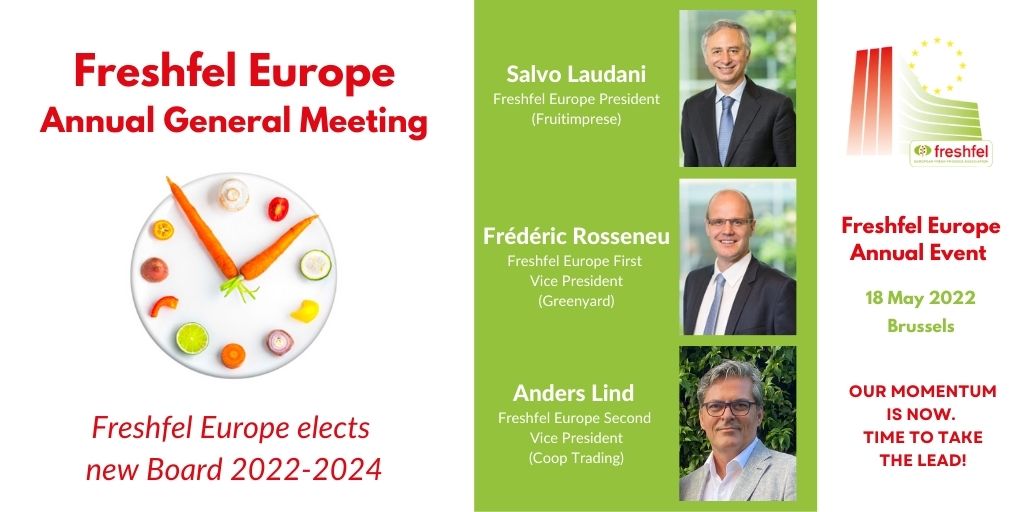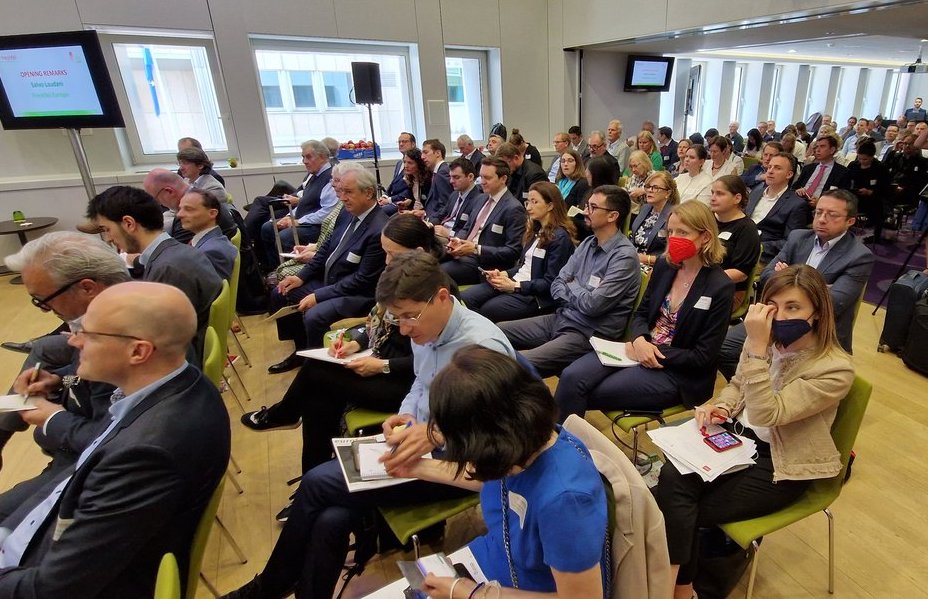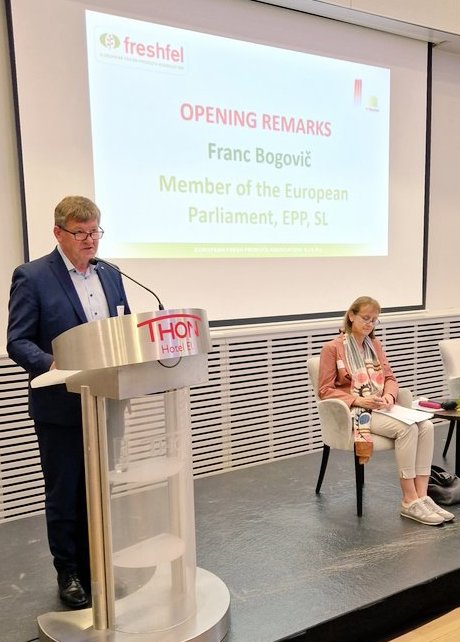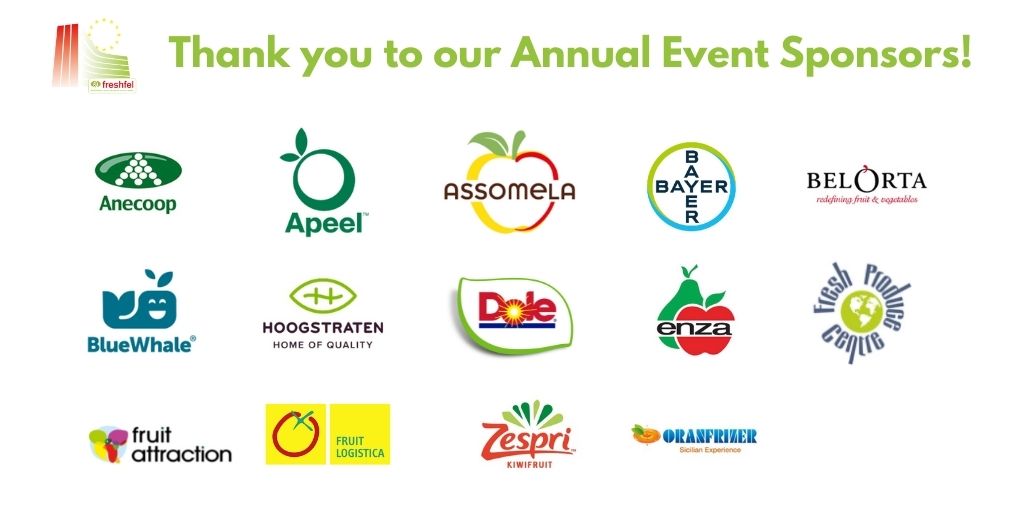 Freshfel Europe holds Annual Event for fresh produce sector in Brussels
On 18 May 2022 Freshfel Europe held its Annual Event 2022. This year's Annual Event was entitled 'Our momentum is now. Time to take the lead!' and examined strategies for creating cross-community awareness for plant-based diets as part of the solution for a sustainable and healthy future. The Annual Event marked the Association's first physical Annual Event since the start of the COVID-19 pandemic, and gathered over 100 leading actors from the European and global fresh fruit and vegetable sector for Freshfel Europe's Annual General Meeting (AGM) and Annual Event Public Conference.  
The morning session featured Freshfel Europe's AGM session, open to Freshfel Europe members and associated members. Mr Salvo Laudani (Fruitimprese) was elected as Freshfel Europe President to replace outgoing President Stephan Weist (REWE Group) who led the Association for the last four years. Mr Laudani will be supported by Mr Frederic Rosseneu (Greenyard) and Mr Anders Lind (Coop Trading), who were elected as First and Second Vice Presidents respectively. Mr Laudani, Mr Rosseneu and Mr Lind will lead the Freshfel Europe Board for a mandate of two years.  
The Freshfel Europe Annual Event followed the AGM. The Public Conference featured high-level speakers from the European Commission and European Parliament, who exchanged with Association members on how the fresh produce sector can capitalize on opportunities for growth in the continued disruptive trading environment. the Annual Event was opened by the Association's newly elected President Mr Salvo Laudani and MEP Franc Bogovič (EPP). This was followed by three topical policy sessions, first on the European Green Deal and Farm to Fork Strategy, featuring European Commission DG Sante Deputy Director General Claire Bury, secondly on trade and market developments, featuring European Commission DG Trade Chief Trade Enforcement Officer Denis Redonnet, and lastly on the assets of the CAP featuring European Commission DG Agri Head of Unit E.2 Wine, spirits and horticultural products Mauro Poinelli. 
In the afternoon members participated in the launch of Freshfel Europe's latest promotion programme 'Life is Better with Fruit and Vegetables' (see separate article below). The Annual Event was preceded by a networking cocktail for Association members on 17 May. More information about the Annual Event is available via the Annual Event press release here.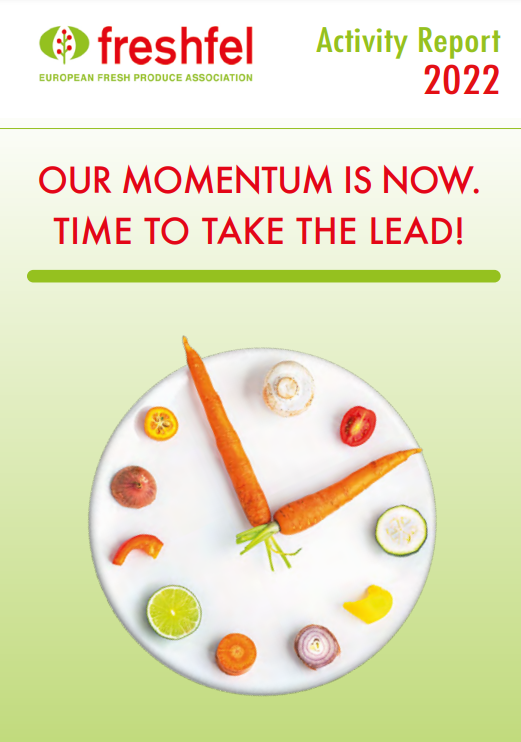 Freshfel Europe publishes 2022 Activity Report
During the Freshfel Europe Annual General Meeting (AGM) the Freshfel Europe 2022 Activity Report was released. This edition of the Association's Activity Report covers the Association's activities in the period June 2021 to May 2022. During the AGM the Activity Report was presented to members. Despite the ongoing pandemic situation in 2021-2022, the Association was very active across many policy areas, not only at EU-level but also at national and international levels. Going forwards, Freshfel Europe has set five major priorities for 2022 and onwards: 1) Position fruit and vegetables and plant-based diets as essential goods in all policy areas; 2) Move towards greener production and sustainable supply; 3) Build on the momentum to stimulate consumption; 4) Foster competitiveness through market intelligence and contingency planning, and 5) Secure sustainable trade opportunities within internal and international markets.  
The five priorities serve to address the main challenges faced by the fresh produce sector, and derive from dialogue amongst the Freshfel Europe membership, while also considering the agenda and priorities of the EU institutions, such as the implementation of the objectives set under the European Green Deal. In addition, the COVID-19 pandemic as well as the war in Ukraine have radically modified the priorities of the fresh produce sector as well as the political agenda of governments, institutions, local and regional authorities and actors that influence the supply chain. This illustrates the need to be able to adapt to a new situation and sanitary, social, economic and political challenges. Many of the lessons learnt from the pandemic and those that the sector is learning through the aggression in Ukraine remain relevant also under different circumstances or situations of crisis. The Freshfel Europe 2022 Activity Report is available online here.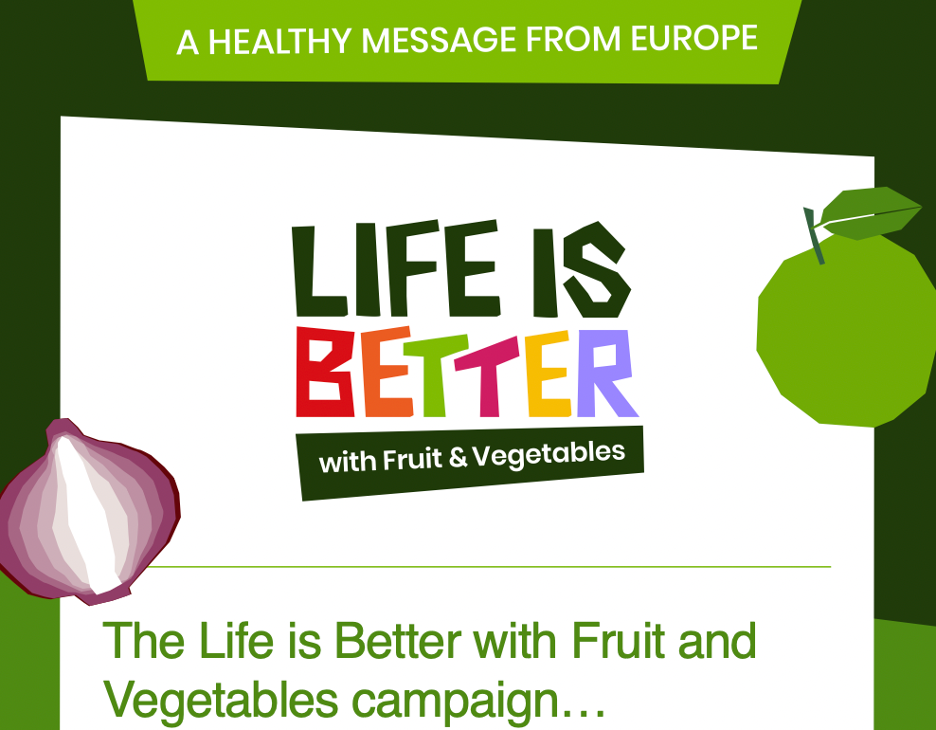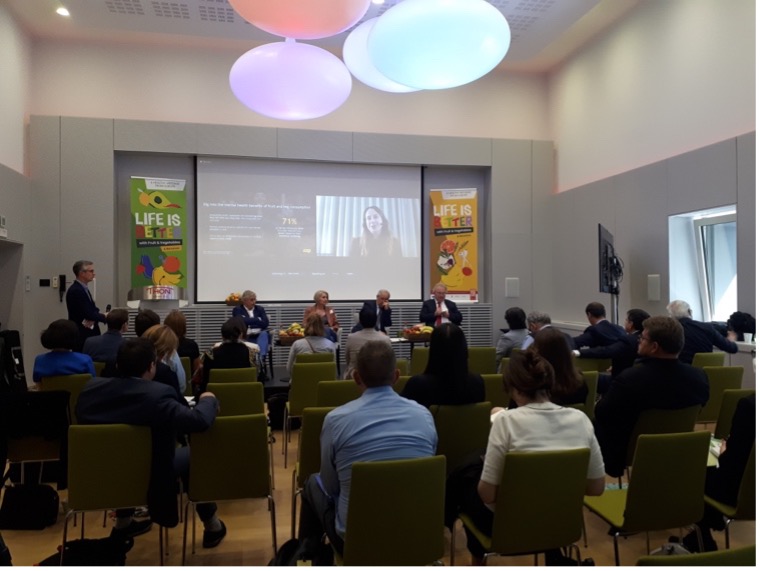 Freshfel Europe, AIB, Bord Bia and Interfel launch new promotion programme 'Life is Better with Fruit & Vegetables'
On 18 May 2022, Interfel – the French fresh fruit and vegetable trade association, AIB – the French banana trade association, Bord Bia – the Irish Food Board, and Freshfel Europe – the European Fresh Produce Association, launched the 'Life is Better with Fruit and Vegetables' promotion programme. The 'Life is Better with Fruit and Vegetables' campaign is an EU-funded programme that targets Millennials and aims at increasing their level of knowledge regarding the nutritional benefits, versatility, sustainability, and practicality of fruit and vegetables. Young Europeans aged 25 to 35 represent a key demographics of consumers, as they are still shaping their purchasing and eating habits. During the opening press conference, Freshfel Europe members and press representatives were introduced to the partners and activities of the campaign, which were complemented by presentations by market analysts regarding the consumption habits of European Millennials, as well as testimonies from two Millennial influencers that will be involved in the promotional activities of the campaign. .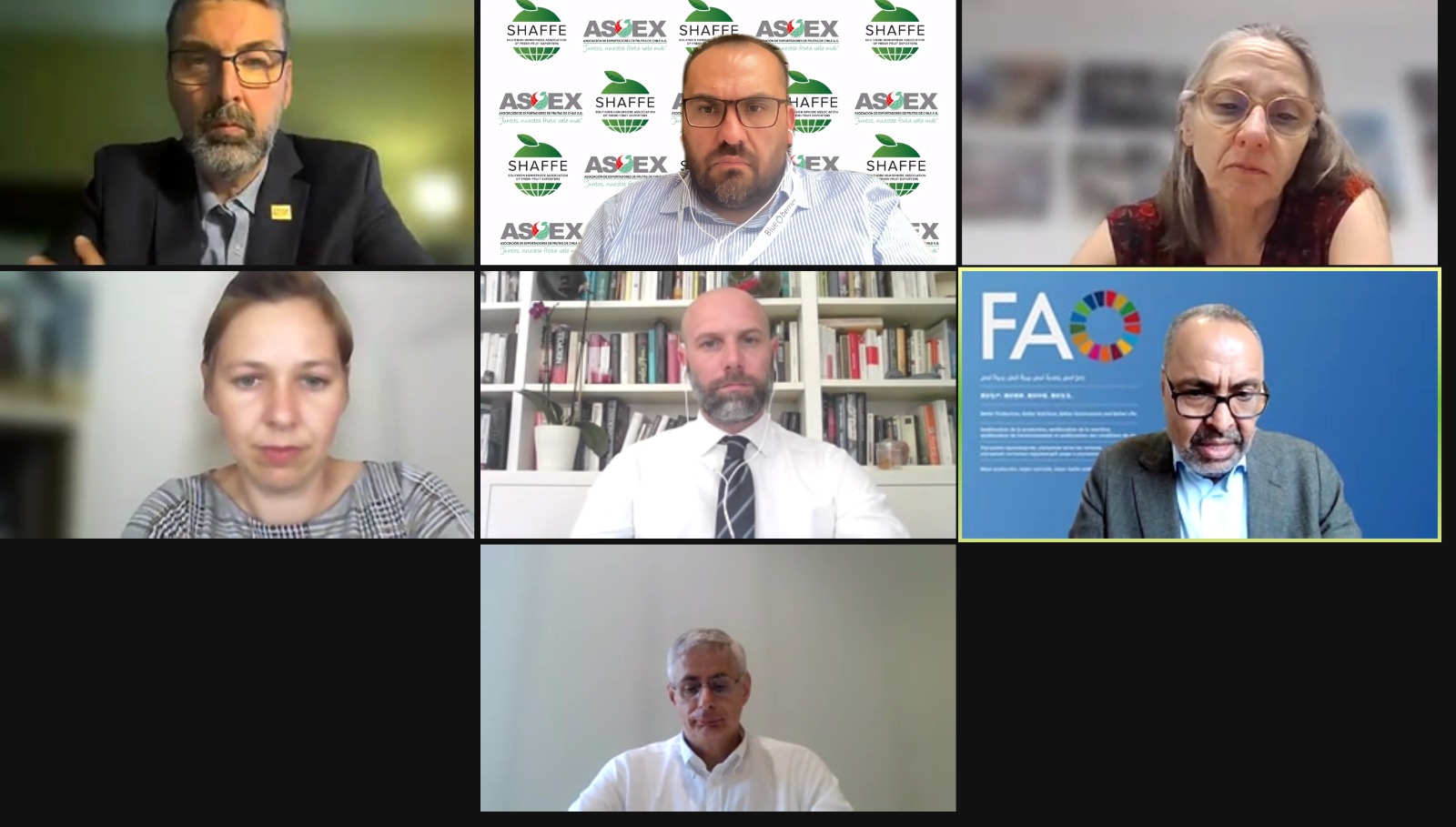 Global cost hikes & supply chain disruptions – Freshfel Europe coordinates together with the 'Fresh Produce Coalition' & FAO
As cost hikes and supply chain disruptions continue, Freshfel Europe continues to unite with the 'Fresh Produce Coalition' – a global task force comprised by the China Chamber of Commerce, SHAFFE, IFPA, CPMA, COLEACP and Afruibana. The common declaration and solution catalogues have been distributed globally to policy makers at national, European and multilateral level and reaching organisations such as FAO, World Bank, UNCTAD and other multilateral bodies with the idea to discuss concrete solutions. In this context the coalition has met with FAO Chief Economist Massimo Torrero, to define concrete steps in analysis and data gaps to support the policy argument. The coalition has been founded to secure the share of voice of the fresh produce sector in a debate which affects all agri-food commodities.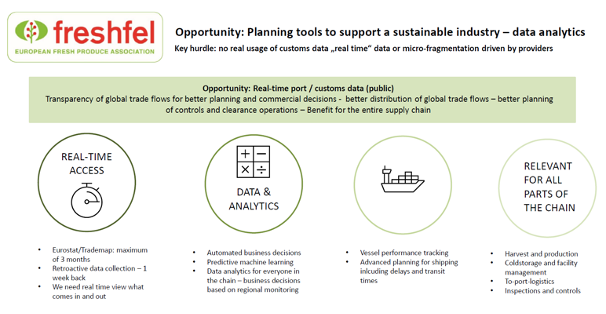 Freshfel Europe flags need for better use of data at 'FAO Geneva Agriculture Trade Talks: digital tool for agri-food trade'
Freshfel Europe's Director Trade Policy and Business Development Nelli Hajdu participated in the 'FAO Geneva Agriculture Trade Talks: Digital tools for agrifood trade' on the 2 June 2022. The meeting had the guiding theme 'Taking stock of progress and key issues for adoption', and was attended by more than 40 leading WTO member countries representatives. The meeting aimed to conduct a stockholding on current digitalisation developments. Ms. Hajdu gave an overview about the experience made with ePhyto, an outlook on the potential for trade facilitation through universal availability of real time customs data for commercial planning as well as better coordination of the current supply chain disruptions as well as potentially for gaining more efficiency in the official control area and with regard to setting new policy measures in the area of plant health and SPS.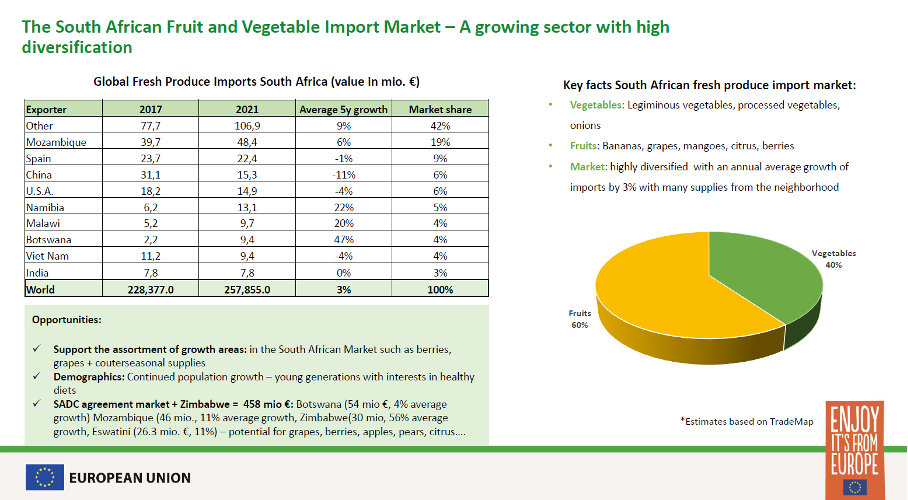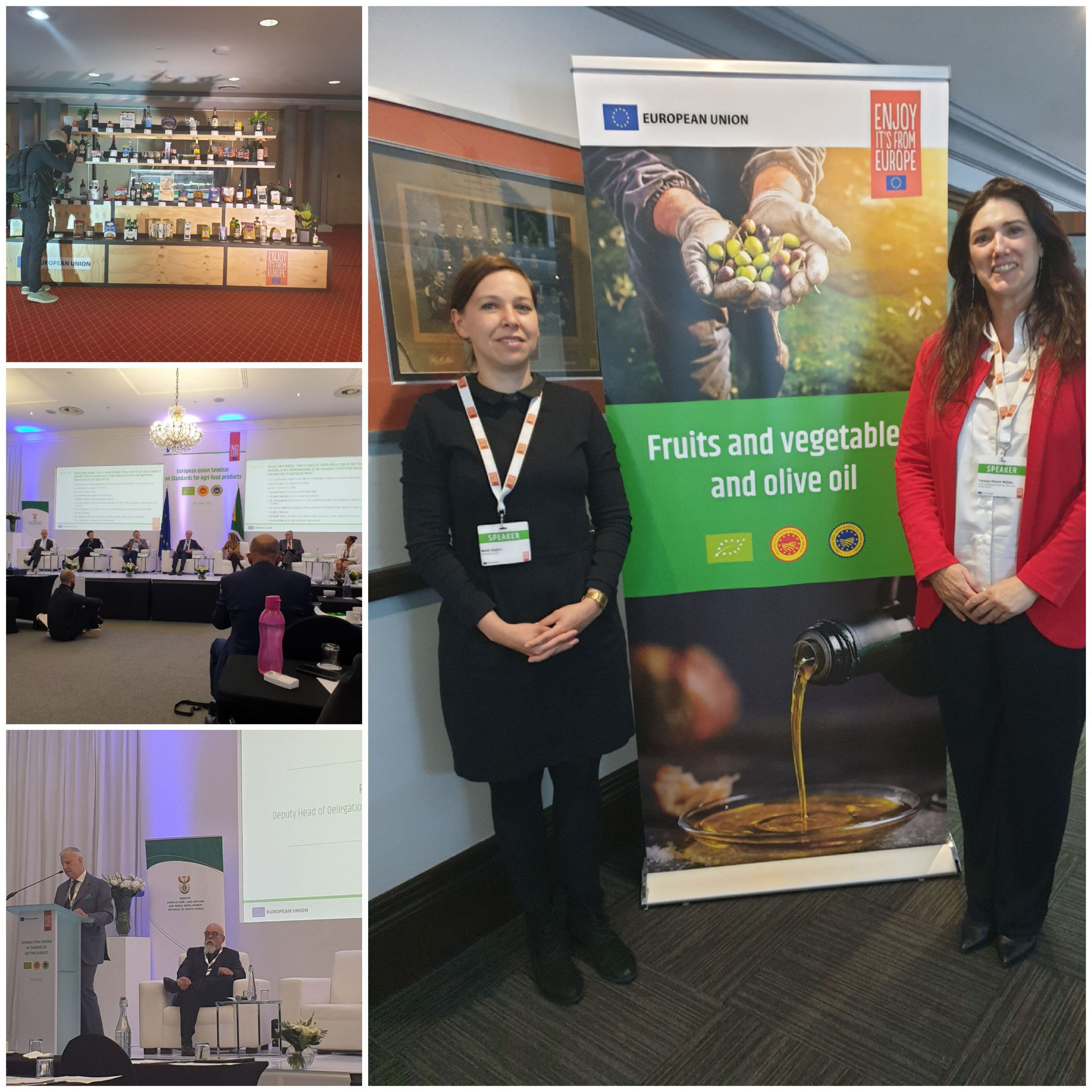 Freshfel Europe promotes EU fruits & vegetables at European Commission workshop in South Africa
The European Commission under lead of DG Agriculture organized an EU Seminar on Standards for Agri-food products at the 18 and 19 May 2022 in Johannesburg, South Africa. The workshop aimed to promote the European food production and trade system and included presentations of DG Santé and DG Agri under lead of acting DG Agri's Director General John Clark. The workshop was accompanied by breakout sessions, to promote the different European Agrifood products. Freshfel Europe's Director Trade Policy and Business Development Nelli Hajdu underlined in a presentation to South African government representatives and food importers that EU fresh produce has a great potential to complete the South African assortment in the counter season and will strengthen the trade relationship with the entire region. South Africa's fresh fruit imports have been growing by 3% on average over the past 5 years – with Covid-19 related trade restrictions impacting in particular the overseas destinations. Under the SADC agreement the EU and South Africa will have to work hard towards swift recovery for transit times and supply chain disruptions resulting from this very difficult period. 

Freshfel Europe webinar on 'Bacillus thuringiensis (Bt) – a biological tool for the fresh produce sector: challenges & opportunities'
On 25 May Freshfel Europe held a webinar on 'Bacillus thuringiensis (Bt) – a biological tool for the fresh produce sector: challenges and opportunities'. At the moment Bt strains are under discussions in the Standing Committee meetings of DG Sante. Member States have already expressed divergent views on how to consider the uncertainty in the assessments of Bt strains. During recent discussions it was also acknowledged that several uncertainties in the observed food intoxication cases remain (e.g. unclear symptoms not demonstrating a link between Bt and the intoxications). On the other hand, and in the interest of a high level of consumer protection, several Member States request application of a precautionary approach until the origin of these food intoxication events would be fully clarified. The guest speakers from IBMA provided an update on value of the commercial strains of Bt strains as well as on the perception and ongoing discussions on commercial Bt strains and its consequences. 
While Bt is authorised at EU level, there are no maximum limits set. This results in national authorities imposing national maximum levels, while private companies impose private standards. Also, as todays´ testing methodology does not allow laboratories to distinguish Bt from other strains that may cause illnesses, a guest speaker from Wageningen University provided an update on identification and differentiation of Bt commercial strains on fresh produce. 

Freshfel Europe attends DG Sante's plenary Advisory Group meeting on Food Chain & Plant Health
On 6 May the European Commission held its last plenary meeting of the EU Advisory Group meeting on the food chain and plant health. At this meeting the European Commission presented the latest policy updates to EU stakeholders. DG Sante provided an update on a wide range of topics, among which included sustainable food systems framework initiative; monitoring of the Farm-to-Fork Strategy; Russia's invasion of Ukraine: challenges in the enforcement of food legislation; update on the revision of the food information to consumers regulation; New Genomic Techniques; guidance on interpretation of certain OCR provisions; sustainable use of pesticides. The European Commission will be soon announcing the members of the new platform – Advisory Group on Sustainability of Food Systems. The objective of the new platform will be to assist DG Sante in the preparation and drafting of legislative proposals and policy initiatives in various areas: food systems' sustainability and related areas thereof, including food and feed safety, food and feed labelling and presentation, public health and human nutrition in relation to food legislation, new technologies – including biotechnology, in the food system, crop protection, plant protection products and residues thereof, etc.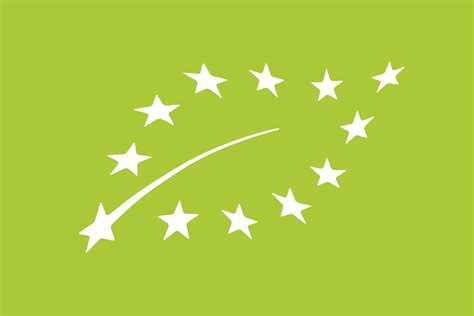 Preparation for increased controls on selected organic products – origins continue to challenge the sector
During the implementation of the strategic targets of the Farm to Fork Strategy, the European Commission continues to strengthen its efforts to increase and regulate organic production and trade. As such the European Commission has informed Control Bodies in third countries about a list of product-origin combination, which will be subject to increased controls. Based on a range of technical exchanges with Freshfel Europe and other stakeholders, this list has been decreased – but continues to affect certain organic imports from third countries. Freshfel Europe has been continuing to seek clarification on controls methods and frequencies and has been coordinating and facilitating the exchange of third country authorities and the European Commission to explain their technical challenges in implementation.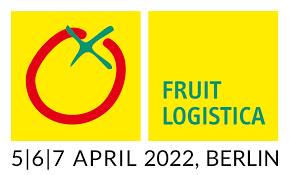 Freshfel Europe returns to Fruit Logistica after two years
After two years of pandemic, Freshfel Europe has welcomed the return to Fruit Logistica as a great opportunity to reconnect with colleagues and fresh produce stakeholders. Attending Fruit Logistica in Berlin in April 2022, due to the still uncertain health situation, Freshfel Europe waived its traditional stand for this year's edition. However, with many members returning to trade shows, Fruit Logistica 2022 remained busier than ever with many meetings and side events. Freshfel Europe looks forward to the next edition in 2023.     

Foreign Policy Instrument on Market Access in Asia on the home straight – fresh produce sector clarifies position 
With continued focus on the Southeast Asian export markets, Freshfel Europe has continued to accompany the FPI project to clarify the priorities for the European fresh produce industry during the European Commission briefing on the 23 May 2022 as well as in bilateral exchange with the implementing agency AETS. Freshfel Europe highlighted that market access to China will continue to be a priority for the fresh produce industry, which should further be reflected in the FPI project agenda for the second part of this year either via market access guides, regulatory visits, or workshops. The organisation further highlighted increasing interest into Japan, Vietnam, India and Indonesia and showed hope, that it the projects envisaged for the second term 2022 would reflect these priorities in concrete actions.     

Legislative developments on fresh produce packaging being closely monitored by Freshfel Europe
Freshfel Europe, under the guidance of Director Sustainability & Health Nicola Pisano, is continuing to monitor legislative developments for fresh produce packaging. With EU Member States in implementation phase of the Single Use Plastics Directive and with the Packaging and Packaging Waste Directive still under the European Commission's revision process, the sector is facing a time of change in packaging requirements across the Union. Europe is leading the way in terms of fruit and vegetable packaging legislation, but also solutions. In this period of change Freshfel Europe is ensuring that packaging legislation does not impede functionality requirements of fresh produce packaging, especially for specific products that are not able to be sort in bulk. Accordingly, on the 30 May Ms Pisano attended a stakeholder workshop meeting organised by the European Commission DG ENVI on the progress of the revision of the Packaging and Packaging Waste Directive. Freshfel Europe is closely following the revision progress, especially regarding to changes to the Essential Requirements and regarding compostability for products, such as fresh produce labels.  

Freshfel Europe attends the first EU Biodiversity Platform meeting
On the 26-27 April the first EU Biodiversity Platform meeting took place. Freshfel Europe successfully applied for a seat on this new platform dedicated to the biodiversity targets under the European Green Deal. The EU Biodiversity Platform is run by the European Commission with meetings to take place on a biannual basis. This first meeting, attended by Freshfel Europe Director Sustainability & Health Nicola Pisano, covered the Platform's rules of procedure, monitoring, assessment and review of the EU Biodiversity Strategy for 2030, ongoing work on biodiversity monitoring, research opportunities for biodiversity policy, financing for biodiversity, the new EU Soil Strategy and the EU Pollinators Initiative among other topics. Freshfel Europe is looking forward to working with other stakeholders on the Platform to achieve the Union's biodiversity targets, which has been a key area for many years as part of the fresh produce sector's sustainability efforts.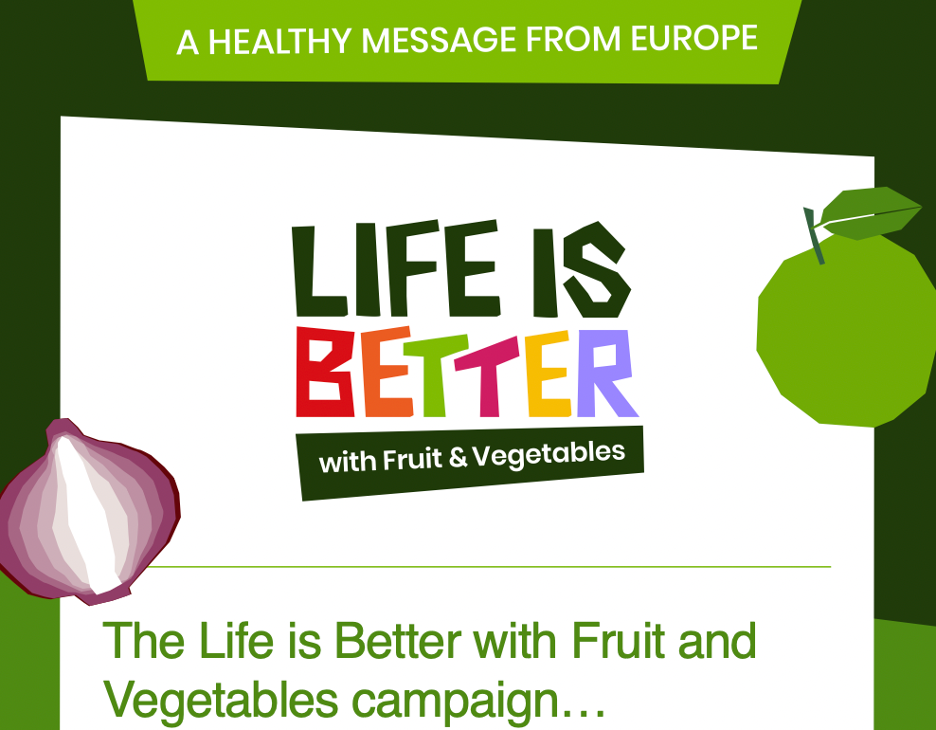 Freshfel Europe publishes first newsletter of 'Life is Better with Fruit & Vegetables' campaign
As part of its involvement in the 'Life is Better with Fruit & Vegetables' promotion campaign, Freshfel Europe will publish four newsletters each year recapping the latest developments of the programme. The first edition of the newsletter was published in April and is available at this link. More information about the campaign is also available via the Freshfel Europe website here.