Freshfel Europe collects this information from different sources to the best of its knowledge. Freshfel Europe is in no way responsible for the content of the articles used. For any questions or further information, please contact Daphne van Doorn or Nelli Hajdu at the Association's Secretariat.
Number 3/2017 – 4th of July 2017
Note from the editor: Fresh Times – Fresh Fruits – Fresh Faces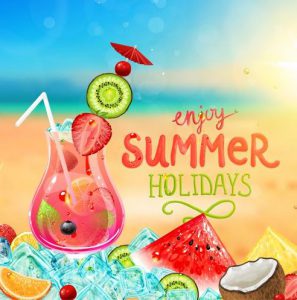 Half of 2017 is already over and this is the 3rd  Fresh Time issue for this year…again full with a colourful basket of travel memories, playful new ideas and old evergreens in new shoes. And as it is in life, you always need something fresh from time to time – and that's why Fresh Times is welcoming a new author, who will bring fresh spirit and will from now on detect for you the finest and most exciting campaigns to increase consumption of fruit and vegetables and beyond. Nicola is half Australian and half Italian…. This background can only be a guarantee for a fruitful fresh beginning! For this issue we looked literally "from farm to fork" – including exciting educational projects and projects with regard to a sustainable link between the avoidance of food waste and consumption. Good news are ahead as well: finally food blogging and vegetables find each other in a good match! Enjoy the read and the summer!
Portugal: Fresh news from my travel diary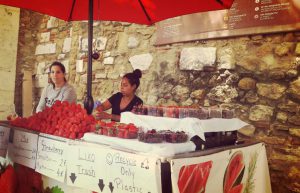 As frequent traveler, and always in service for the best product in the world – even in my holidays, I travel with open eyes. Lisbon, capital of Portugal, town of trams, Fado and sardines took my heart. Small little streets, uphill and downhill, a beautiful castle … and in front of it: a beautiful stand offering fresh strawberries and cherries – exactly the refreshing right thing after a tough climb in the midday heat of a late May day – at a spot where you normally find Ice-cream, soft-drinks or other sweet and sticky products. And once discovered, these stands popped up everywhere. At the Praça do Comércio, in the tiny streets of Alfama and Bairro Alto. No brands, no names. Just fruit! Good, healthy and refreshing. Truly, Lisbon made it to No.1 of my very personal healthy-city ranking… Let's see what comes next?
Germany: And in the beginning there was the seed…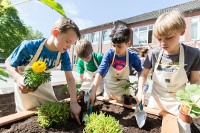 In times of urbanization and continuous disconnection from agricultural production, school garden projects are most important, to make children understand where there food is coming from. Playing with the soil, growing veggies and being at fresh air is similar important than mathematics and other subjects. Understanding the cycle of agricultural production is important to learn to evaluate the effort, which has been made, until the food finds its way at the plate. Landgard Foundation has therefore just started a pilot project and equipped five schools in Germany with raised beds, plants and equipment. As nationally famous TV host Johannes B. Kerner is supporting with its own foundation the personal development of children, he took over the patronage of the project. What has been a pilot project with 5 schools will now be expanded, and primary schools all across Germany can apply. The project kicked off with action days in 3 different federal states.
The Netherlands: Food bloggers in tomato heaven

What happens when you take a group of food bloggers on a journey into the world of tomatoes? They discover a whole new world of tomato-y recipes that they never would have come across otherwise of course! Online consumer platform Love my Salad did just that on the 9th June, taking German, Austrian, and Dutch food bloggers on a tomato extravaganza. At the event, hosted by Prominent Tomatoes, the bloggers attended a tomato workshop in Rotterdam, visited LEMA Tomaten, a family owned tomato farm and participated in a 'Big Green Egg' barbecue and 'salad challenge'. These days, many people, whether young or old, follow food bloggers as a source of inspiration for their own home cooking and they are becoming "an important target group for the vegetable chain" affirmed Annelies Blauwkamer, the Community Manager of Love My Salad. Watch the food bloggers tomato-filled journey here!