Freshfel Annual Event 2020
Freshfel Europe Annual Event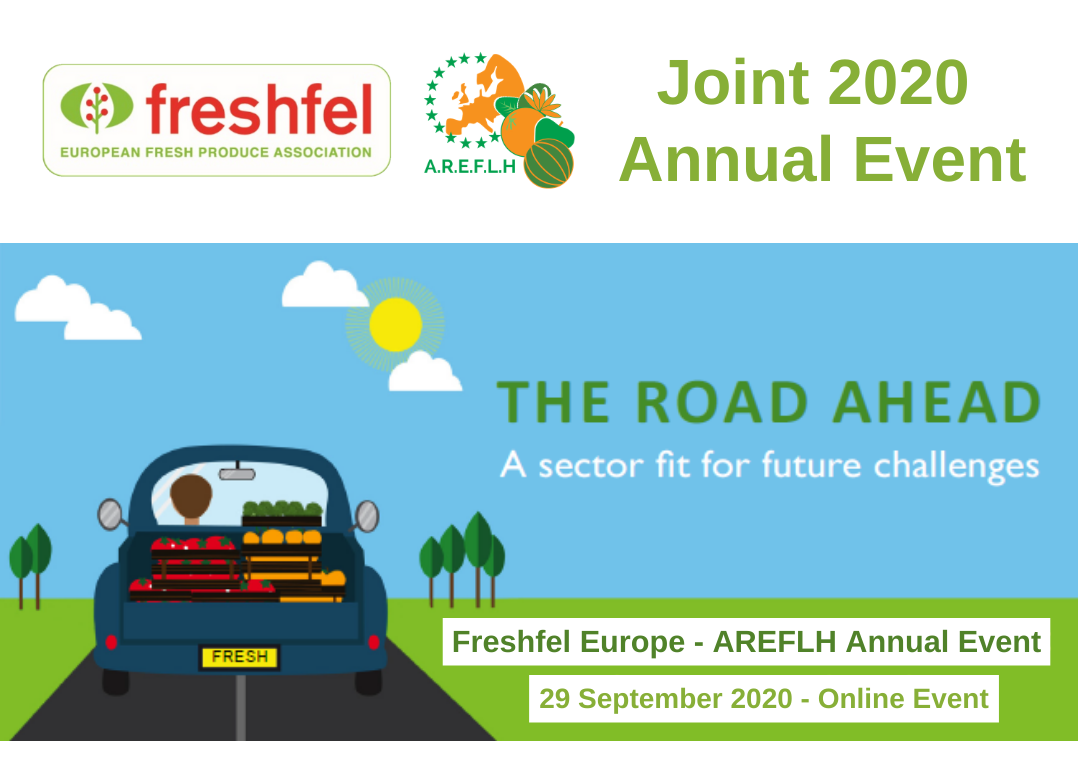 Due to the event restrictions as a result of the COVID-19 pandemic, Freshfel Europe has rescheduled its 2020 Annual Event to

29 September 2020

.
Freshfel Europe will be holding its 2020 Annual Event in conjunction with AREFLH, L'Assemblée des Régions Européennes Fruitières, Légumières et Horticoles.
The 2020 Annual Event will be held as a

digital event

to enable all members to participate. 
Freshfel Europe will hold its 2020 Annual Event online on the morning of the 29 September 2020. The event has been rescheduled from its initial date of 27 May 2020. The theme of this year's event is: 
"The Road Ahead – A Sector Fit for Future Challenges". 
The Annual Event will focus on the new EU policy priorities and what the future holds for the fresh fruit and vegetable sector over the coming decade and beyond. 
The Annual Event will begin with Freshfel Europe's Annual General Meeting, which will coincide with AREFLH's Annual General Meeting. The public conference will then follow with guest speakers from the European Commission and European Parliament focusing on EU policy priorities such as sustainability, production and trade opportunities and challenges and fresh produce consumption. The impact of the COVID-19 pandemic on the future of the sector will also be evaluated.
For all general enquiries, please contact Nicola Pisano (n.pisano@freshfel.org).
Interested in sponsoring the Freshfel Europe Annual Event? If you would like to sponsor the Freshfel Europe Annual and promote your organisation to Freshfel Europe's extensive network of industry leaders and decision makers, please contact Linda Bloomfield (l.bloomfield@freshfel.org). More information is also available on the sponsorship leaflet here and here. 
SPONSORS ANNUAL EVENT 2020