Freshfel Annual Event 2018
Freshfel Annual Event 2018
On the 7-8 June Freshfel Europe will hold its 2018 Annual Event jointly with DFHV in Hamburg, Germany. This will be the first ever combined Freshfel-DFHV combined annual event.
The theme of this year's Annual Event is:
"Fruit and Vegetables: changing consumer purchasing habits and the digital economy"
The joint Annual Event will focus on the challenge of changing consumer purchasing habits as a result of the evolving digital economy and the implications for the European fruit and vegetable supply chain.
During the event, key experts will present their views and debate the direction of supply and demand relationships in the new era of global digital business and exchanges between business and consumers.
The Annual Event will be preceded by an evening BBQ for all participants on 7 June, while Freshfel Europe's AGM and the joint public session will be held on 8 June. There will be ample network­ing opportunities throughout both days, providing the opportunity for infor­mal discussions and business contacts.
The full programme, including details of the reception on the 7 June, will follow soon.
For any queries, please contact: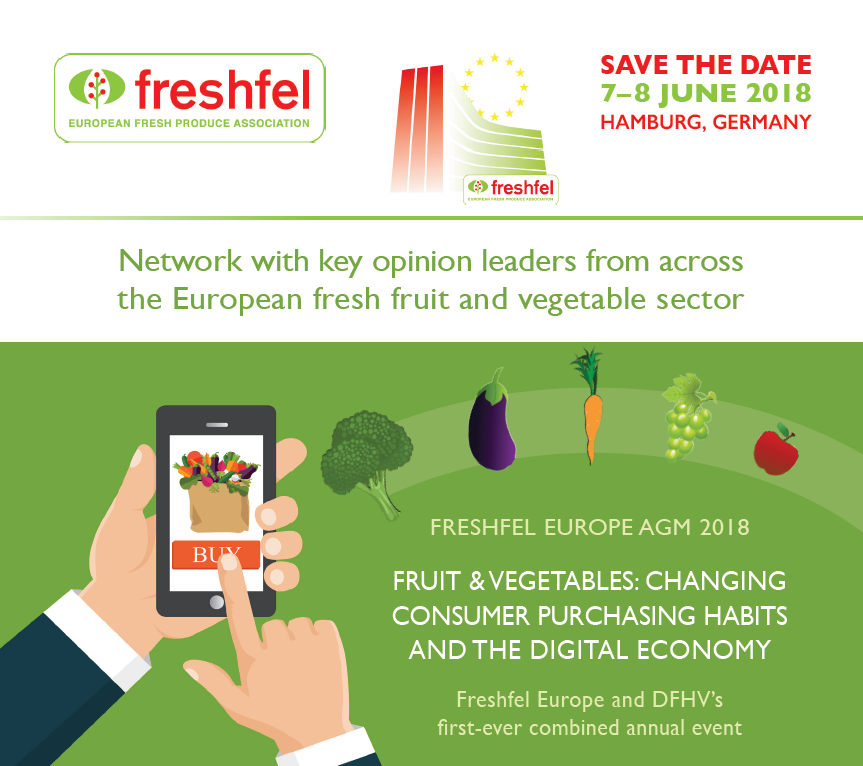 SPONSORS ANNUAL EVENT 2018